The 2023 FIFA Women's World Cup continued on Saturday (on FOX and the FOX Sports app) with an all-out thriller between Australia and France in the quarter-finals at Suncorp Stadium in Brisbane, Australia. The game went goalless throughout regulation and overtime, ending in an epic shootout where Australia won 7-6 in front of a raucous home crowd.
The shootout lasted nine rounds, the longest in men's or women's World Cup history.
Australia advanced to the semi-finals after a penalty shootout. France | 2023 FIFA Women's World Cup
Australia will face the winner of England-Colombia (on FOX and FOX Sports App) in Wednesday's semifinal.
Check out the highlights below!
Australia beat France 0-0 (7-6) on penalties.
Penalty kicks
Round 10: France miss, Australia score
Vicki Pecho left the post before Courtney Vine finally sent the host the winner of Matilda The Women's World Cup reached the semi-finals for the first time in its history.
Round 9: Both miss
Kenza Daly's effort is saved by Mackenzie Arnold in her third of the shootout, but Claire Hunt can't capitalize and the shootout continues.
Round 8: Both score
Maelle Lakrar and Ellie Carpenter both missed their penalties.
Round 7: Both score
Sakina Garchoi for France, Tameka Yalop for Australia.
Round 6: Both score
Grace Gioro took one past Arnold and Katrina Cory continued the match in favor of Australia.
Round 5: Both miss
Mackenzie Arnold made an incredible save at one end – but her effort for a winner missed the post to send things into sudden death.
Round 4: Both score
Next up is the veteran French legend Eugenie Le Sommer and young Australian phenom Mary Fowler, who each made their efforts look easy.
Round 3: Both score
The captains got the job done for each side as superstars Wendy Rennard and Sam Kerr calmly dipped in to level things.
Round 2: France goals, Australia miss
Kadidiatou Diani does what he does best – scores any goal for Mackenzie Arnold.
Solene Durant rewarded her manager's faith by saving Steph Gately's effort.
Round 1: France miss, Australia score
Caitlin Ford sent her strike past Durant to the left, sending the Brisbane crowd into a frenzy.
Selma Bacha stepped in first after France won the toss, but her shot was saved by Mackenzie Arnold.
Extra time
122′: Goalkeeper Solenn Durant Arriving in France just before penalties
France coach Herve Renard rolls the dice before the penalty shootout to decide this thriller of a match with a new goalkeeper.
109′: Steph GatelyHow to play the hero in defense
107′: Mackenzie Arnold With another brilliant save to keep things scoreless
Mackenzie Arnold made another save to keep Australia and France deadlocked 0-0 in extra time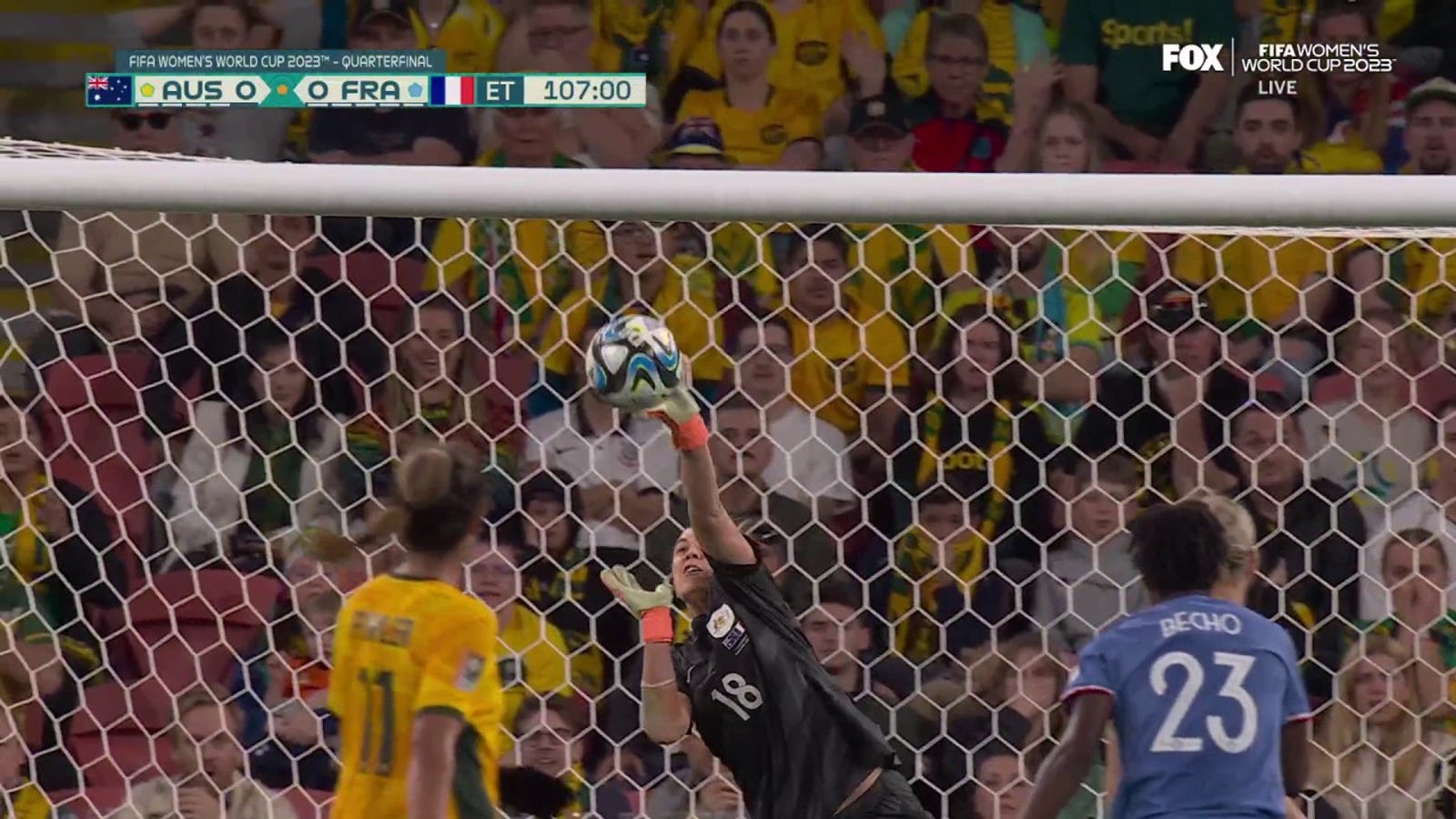 105′: Courtney Wynne Almost becoming a super-sub goalscorer
Minutes after Wynne entered as a substitute, the Australian forward almost made an impact of his own.
100′: France goal waved away due to a foul in the box
The Blues They finally thought they had cleared a dubious corner kick, only for the goal to be waved away for a foul when Wendy Renard was called – much to the relief of the largely Australian-backed crowd in Brisbane.
A foul in the box resulted in France and Australia's goal being overturned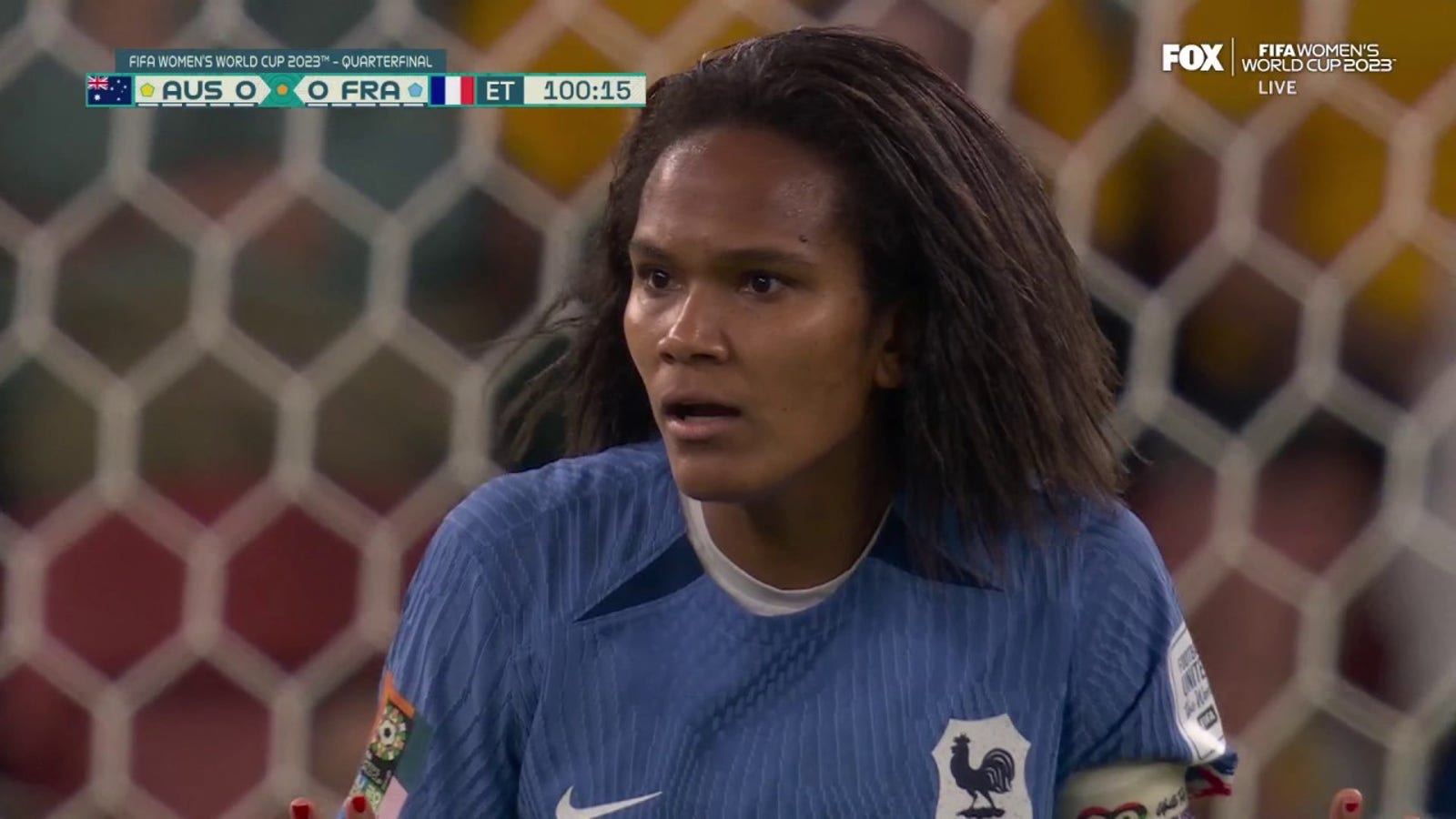 92′: Australia's Katrina Cory Sign up for tough tackle Sakina Karchaui
Second half
90+4′: Extra time comes due to Australia pressure but can't convert
60′: More golden chances for Australia, but no goal
Two brilliant saves from French goalkeeper Pauline Peyraud-Magnin were the only reason Australia did not reward their raucous home crowd in Brisbane with yet another goal.
Australia, France still 0-0 after Pauline Beyrat-Magnin makes a fine save
55′: Look who's coming in!
Australia star and captain Sam Kerr has entered as an early substitute as he continues to nurse a calf injury. His entrance drew the biggest roar of the night from the home crowd in Brisbane.
50′: Australia turn up the pressure early in the second half!
The of Matilda This Mary Fowler effort resulted in a corner kick – but, in the end, no goal.
half time
Who will strike first?
The World Cup NOW crew had an action-packed first half in Brisbane, but ended up scoreless.
First half
45′: Mary Fowler Can't finish attacking before half time
41′: Eliza de Almeida Saves France with an incredible deflection on goal!
Elisa de Almeida of France blocks a shot attempt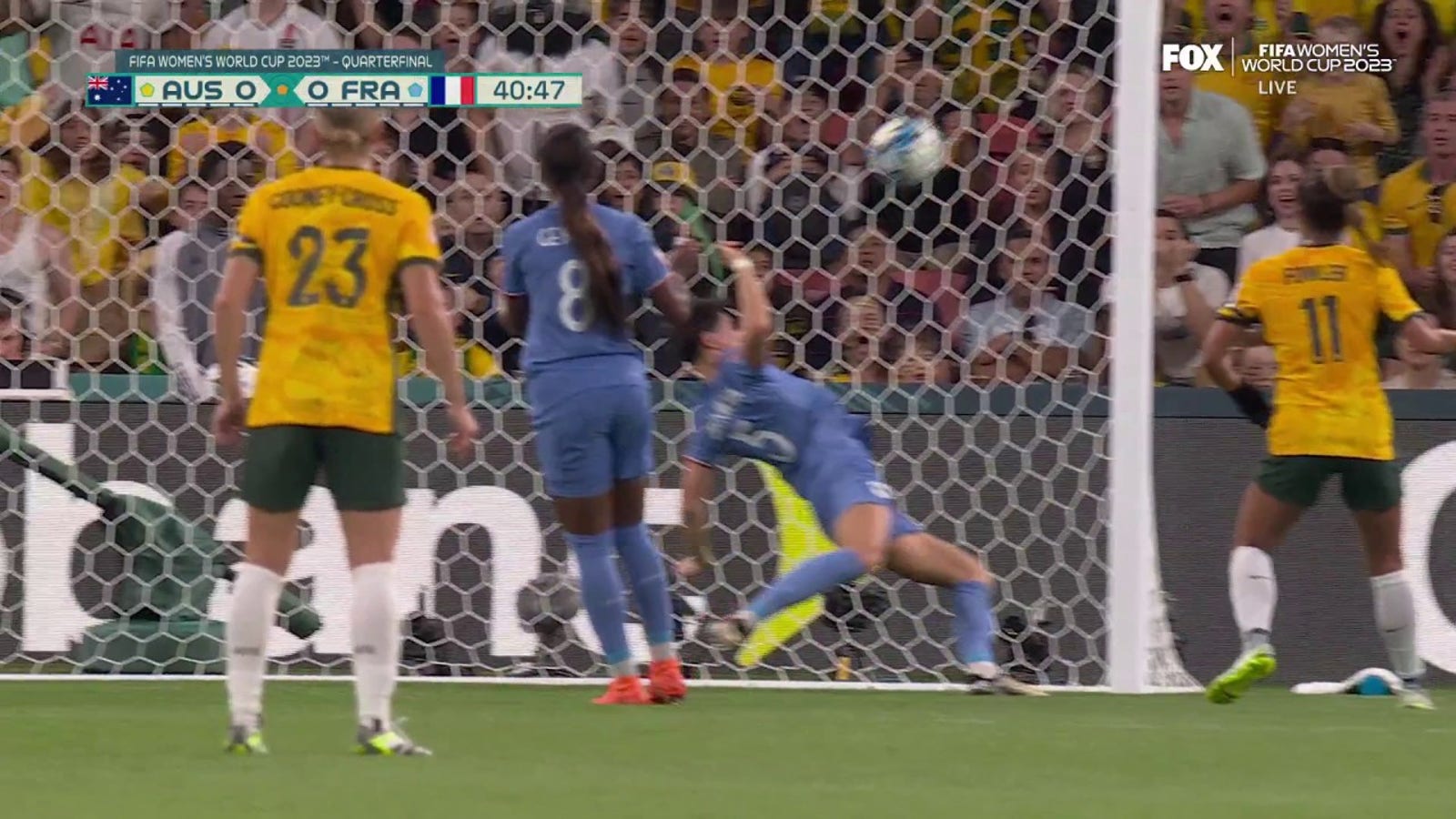 32′: Stellar save from Australia Mackenzie Arnold To keep France off the scoresheet
Mackenzie Arnold's brilliant save kept Australia and France scoreless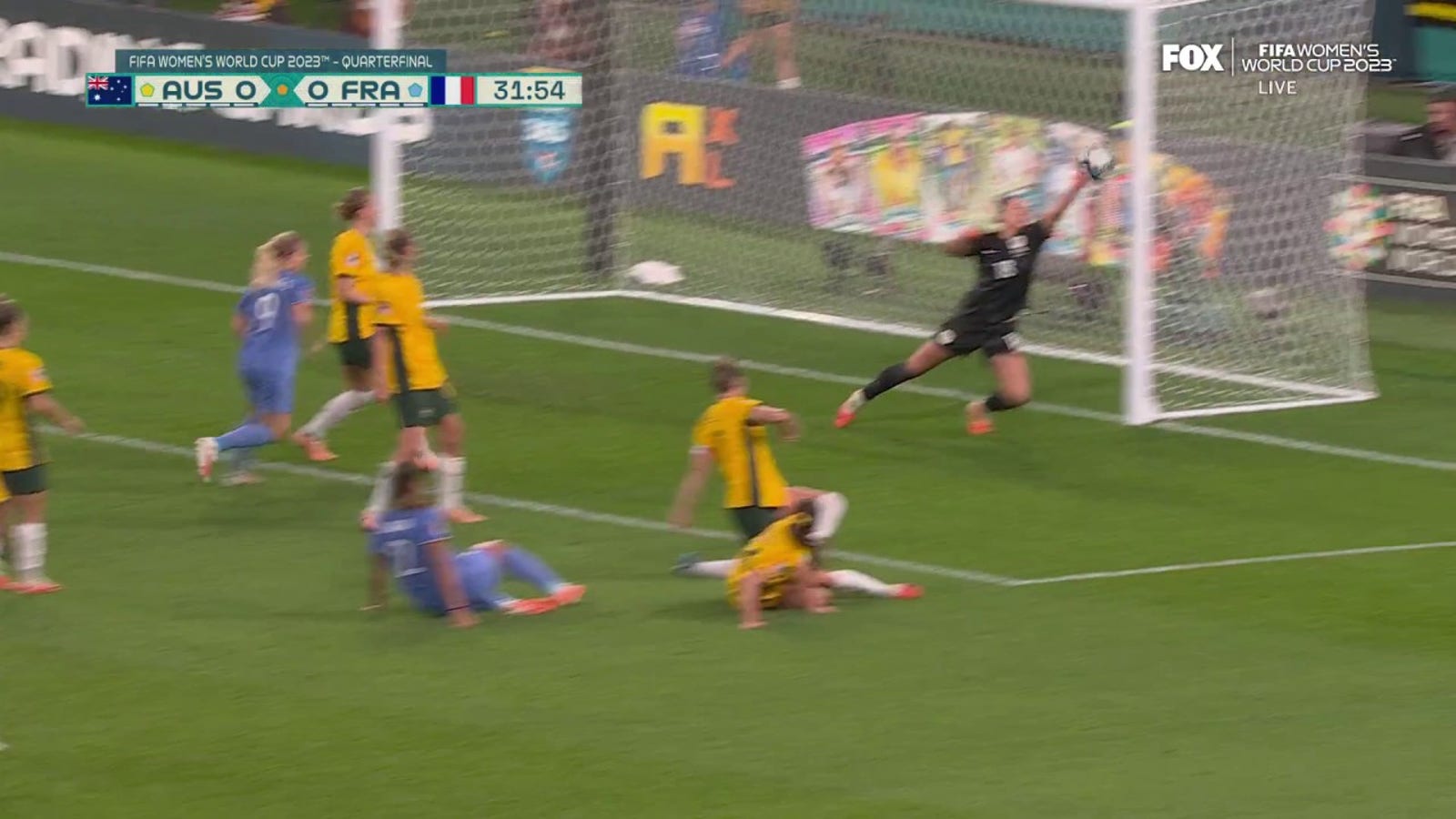 12′: France knocks early and misses
8′: Early chance Caditiado diani and France
1′: Underway in front of an emotional home crowd!
PREGAME
Setting the stage
The "World Cup NOW" crew previewed the match live ahead of kickoff on social media.
Key to win Australia vs France | Now the World Cup
Starting lines
Australia's star striker Kerr was again left out of the starting XI but is expected to play on Saturday. A calf injury has kept Kerr out of just 10 minutes in total at the World Cup so far, all of which came in Australia's most recent win over Denmark in the round of 16.
Meanwhile, France will need to stop Kerr and Raso without defender Ave Perisette, at least at first. Perisset was left out of the starting XI The Blues.
Check out the full Women's World Cup schedule and how to watch every match live Here. Find latest scores Here.
Follow along
Follow your favorites to personalize your FOX Sports experience
---
Fifa World Cup Women Trending
---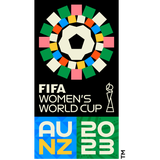 Get more from the FIFA Women's World Cup Follow your favorites to get updates on games, news and more
---